Aqua isn't new to the home decorating scene. Actually the color aqua and it's many lovely shades started trending last year but seems to be gaining in popularity.
The color aqua has many names such as aquamarine, teal, cyan, greenish blue and regardless of what you call it, this color can stand on it's own as a neutral, easily harmonize with a neutral color palette for a calming effect, or it can create some exciting and energizing interiors when used with some complementary bright colors. You will see all these styles of aqua interiors in the pictures I have gathered for you.
Warning!

This blog post will deal with the muddier tones of aqua which come across as more refined and elegant as opposed to the primary, almost garish, shade of aqua that can send a anticipated redo spiraling out of control quickly without expert help.
Hope you enjoy!
What is it that makes this image so pleasing to the eye? There is just something about it that works. In the next pic you will see the answer is that aqua and red are perfect complements for each other. In decorating you have heard the term "marries well" .......the aqua/red combo is proof of that.
In the color wheel you see aqua sitting between green and blue. Complementary colors enhance each other and create a beautiful contrast. So, if you look at a color wheel and locate the aqua color, all you have to do is look directly opposite it to find its complementary colors. In aqua's case reds and oranges are the perfect choice.
My advice , however, is to add the complementary colors in small doses.
Unless you tone it down a bit, as is done here, the red/aqua combination can become tiring after awhile. Remember you are after a chic, smart, elegance.
Miles Redd via AD
Muted shades of aqua make colorful interiors appear more natural and easier on the eyes. This room is chic and sophisticated.
The colors we're seeing aqua paired with today are bold and exciting as done to perfection in the home of Designer, Alexa Hampton. Just be careful with the shade of aqua you choose.
The use of bolder colors are still warm and cozy in this lovely living room by Brandon Schubert. (See below as well).
If you don't use the right shade of aqua when bringing in bolder colors your design efforts can make an instant wrong turn and can sour quickly. Your room will look loud and gaudy and you will never truly be satisfied because your eyes simply won't let you.
PPG and Glidden have announced the restorative hue Vining Ivy, an enchanting deep aqua, friendly to contemporary and traditional styles, as their popular color for 2023.
Walls in shades of aqua can be the star attraction that creates a great background for a lovely supporting cast of colorful collections in interesting color combinations.
For a sophisticated look, pair aqua with light-colored neutrals to balance out it's vivid side.
Aqua can be invigorating and refreshing and can go well with many other colors, including oranges, pinks, and purples.
Here you see how the darker shade of aqua can act as a neutral in a moodier space that incorporates texture and muted colors.
You may not like a saturated look in any color so painting your moldings and millwork aqua is another way to integrate this lovely color into your home.
Image credit: Susie Atkinson
There is another trend showing itself in this aqua drenched interior. Yes, borders are on their way back as well!
Another example of mixing warm and cool tones within the same room. Even though it is not an equal amount, a combination of both warm and cool tones helps balance a room.
via Pinterest
Yellow is also a color that pairs well with aqua to create lovely interiors. This room has equal amount of both colors
.....
......
while this space is dominated by aqua with only some great pops of yellow warmth.
If you choose a deep aqua for your walls and add in neutral and muted colors you will have a room that is more timeless and less trendy.
Old world interiors are my cup of tea so of course I love this predominately aqua room with muted warm colors added in. A room like this never really goes out of style!
It's always fun to bring freshness to a classical room and unexpected color combinations are a great way to do just that. Here in Holker Hall, the walls of a room are painted in a verdigris shade of aqua with added accents of pink, blue, and red.
Timothy Corrigan
Try a soft shade of aqua on the walls of your bath. With the right shade it will have a spa feel!
Even aqua used boldly like this particular shade is still refreshing. Choose your shades wisely!!
Blue-greens like aqua and teal, especially in deeper hues, are stunning and elegant when used with neutral creams and ivory.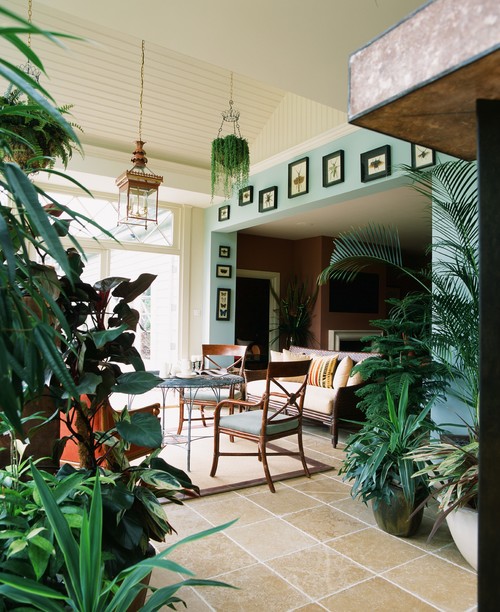 Shades of aqua paint are also perfect colors for statement or accent walls. Or if you are decorating with aqua accessories you might want to create an aqua anchor wall to tie it all together.
With wallpaper experiencing a huge revival, try papering a room in aqua. Dining rooms are the perfect space to add some color, texture, and pattern.
Chinoiserie style is also popular and there are many beautiful Chinese wallpapers that spotlight the color aqua.
Bathrooms are also excellent rooms to experiment with some aqua wallpaper and accessories like this aqua painted vanity. A pop of pink and voilà, an easy redo for you to consider.
Another lovely aqua bathroom thanks to wallpaper!
Pale aqua walls paired with neutral accessories and furnishings.
This is a pretty, more vibrant aqua bedroom. It is hard to find images of bedrooms that look good in this color when paired with a great deal of the complementary colors. With this strong color you must have art on the walls and curated accessories and collections to break up the saturation by adding color and pattern. Unfortunately most new interiors do not. Maximalism is on trend so hopefully this will soon change.
Aqua is a good color for vintage bedrooms as there are usually lovely collectibles to soften the strength of the aqua walls.
Straight from the color wheel, a complementary orange red island makes a great first impression in this lovely kitchen with aqua trim work.
And then there is the possibility of an aqua mudroom. This one is so serene with the soft touches of yellow. Just what you need when doing the laundry!
This energizing, lively color is trending in all types of home décor and accessories. Choose from pillows, throws, lamps, vases, the list is endless.
Decorate a beautiful old world interior with colorful aqua upholstery and furniture. See how the aqua sets off the rich brown hardwood floors and trim work.
Furnishings upholstered in shades of aqua will make your space look fresh and soothing.
If aqua walls aren't for you, go neutral and bring in your pop of aqua through draperies.
Even consider the fifth wall for a splash of aqua!
From teal to aquamarine, there are many beautiful shades of aqua to consider. Good luck creating your dream décor!
Click below to see the previous blog post
.
This blog post was published by Lisa Farmer
In the event that I have not credited the correct source of an image, please contact me at lisafarmerdesigns46@yahoo.com and I will be glad to correct it.